Nestled in the foothills of the Blue Ridge Mountains in Newton, North Carolina, Abernethy Laurels has been known as a destination of choice for senior living since 1971. A program of EveryAge, formerly United Church Homes and Services, Abernethy Laurels has a long-standing reputation, rich heritage, and a team of professionals.
Abernethy Laurels has numerous floor plan options for you to choose the perfect home including cottages, villas and apartments. All of our homes are equipped with all major appliances and feature outdoor living spaces. Residents enjoy life without the responsibility of home maintenance and the comfort of knowing that services are available. Our campus is unique in its fee-for-service approach to retirement community living, where residents make their own selection of services and meal options.
Reclaim your retirement life at Abernethy Laurels! When new residents move to Abernethy Laurels, they often wish they had moved sooner to enjoy hassle-free living and to live life on their terms. Rediscover the things which bring joy and excitement and support a thriving life.
Located in a beautifully landscaped community, our cottages, villas, and apartments offer spacious floor plans, outdoor living spaces and are equipped with all major appliances. The Marketing team works with you to discover which option best meets your needs and interests. Our residential living homes are a popular choice for people who want a carefree lifestyle. Abernethy Laurels is unique in its fee-for-service approach to community living, where residents make their own selection of services.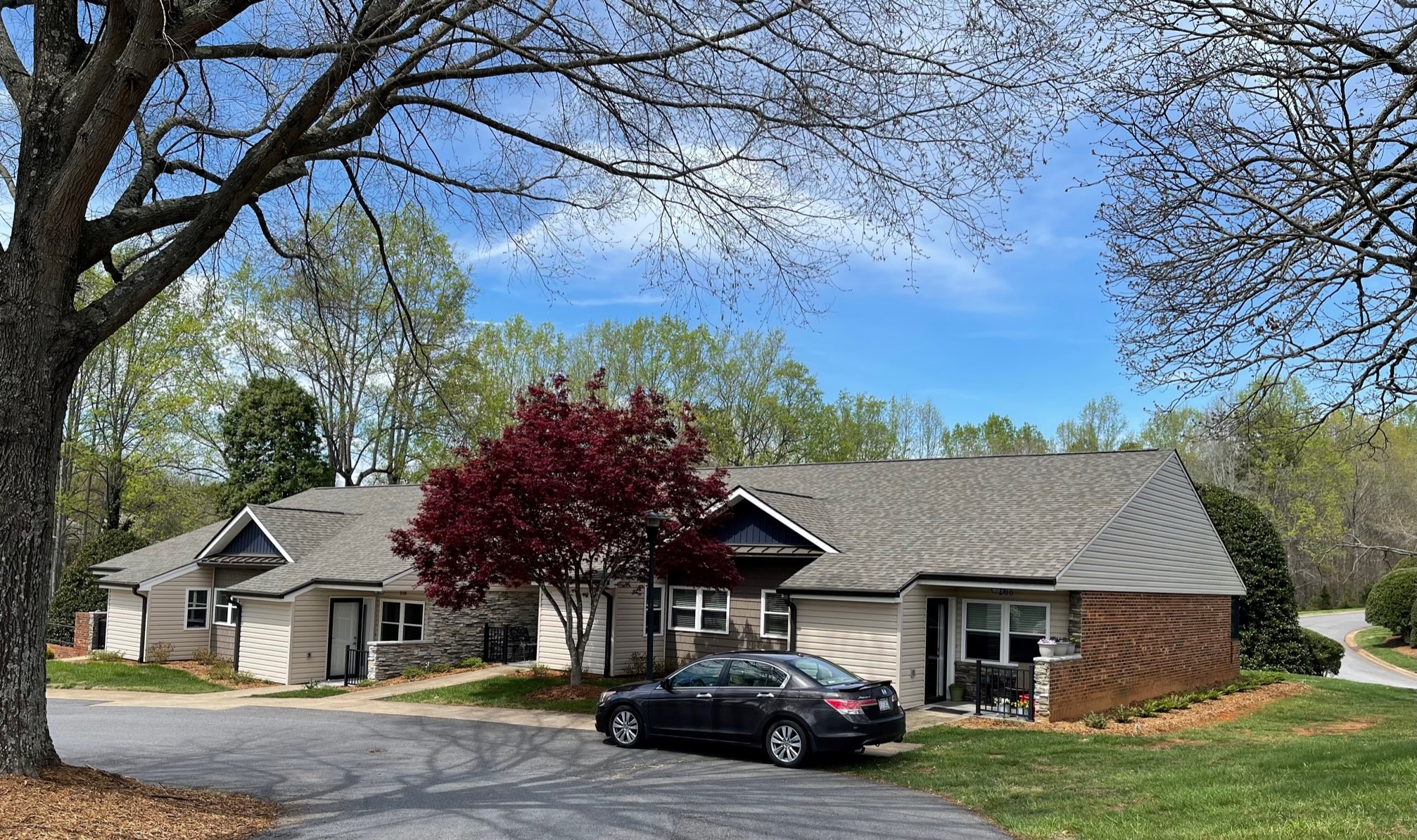 Apartments
Located in a neighborhood setting, apartments at Abernethy Laurels are a great choice for retirement living. Our spacious apartments have one- or two-bedroom floor plan options ranging up to 1,100 sq. ft. Designed for optimal living, our apartments are airy, filled with light, and feature generous room sizes.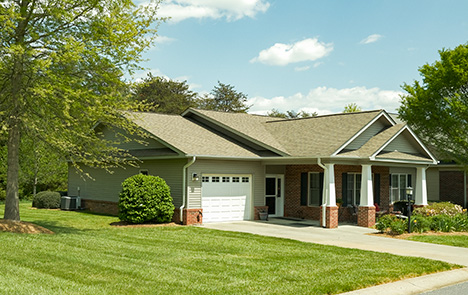 Cottages & Villas
Nestled in our beautifully landscaped community, cottages and villas have numerous floor plan options that begin at 1,000 sq. ft. These homes offer private porches, sunrooms, or other desirable outdoor living spaces.
Continuing Care Services at Abernethy Laurels
Abernethy Laurels offers compassionate health care services, which include assisted living, healthcare, memory care, and rehabilitation. The team provides attentive care to meet the physical and safety needs of each person. For some residents, the care may be delivered in the comfort of their home through home care service, while others may need more assistance.
Located in the main building and hub of the community, Assisted Living at Abernethy Laurels offers a supportive lifestyle for residents requiring assistance with daily activities, such as bathing, getting to/from meals, dressing and taking medications. Our assisted living area allows residents who need some support with activities of daily living the convenience of such services in a private room with their own furnishings and 24-hour staffing.
Residents pay a monthly fee which includes 3 meals per day, housekeeping, personal assistance, and social and recreation activities.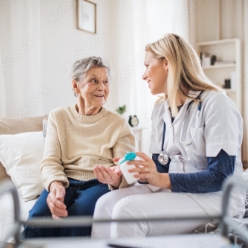 Based on a household model of care, our state-of-the-art Health and Rehabilitation Center offers a cozy setting with the comforts of home. Health care services can be needed on a temporary or long-term basis. Our Medicare- and Medicaid-certified nursing center offers a full array of services to meet the acuity needs of each individual. Our professional staff provides medical support with a focus on person-centered care that enables our residents to enhance their quality of life.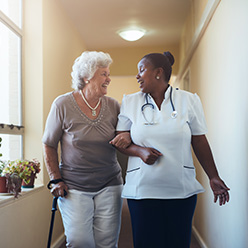 Long-term care also uses a household model of care that mirrors the comforts of home. These services support a variety of situations for residents and allow a couple to reside on the same campus while enjoying different levels of living. Person-centered care is at the core of all our team interactions, with the goal of adding life to our residents' years.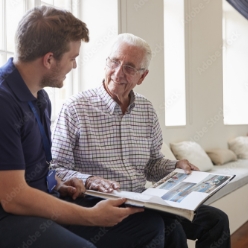 Abernethy Laurels provides secured memory care support in three households, all located within our state-of-the-art health care center. These areas offer a dynamic setting and innovative approach to caring for residents with Alzheimer's or related dementias. In addition to daily care, our passionate and experienced staff help residents participate in a variety of activities that are emotionally, mentally and physically engaging. Each household features a screened porch, with extra safety and security features, that gives residents in memory care the opportunity to experience the outdoors.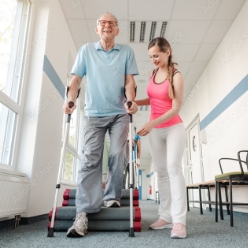 Rehabilitation & Therapy Services
Transitional Rehabilitation at Abernethy Laurels is our comprehensive, multi-disciplinary rehabilitation program that utilizes our private suites and specializes in short-stay recovery after surgery or other illness. Our Transitional Rehabilitation program maintains a high staff-to-patient ratio and incorporates services like At-Your-Request, which allows flexibility in meal choices and dining times. Our professional staff of physicians, nurses, physical and occupational therapists, and speech-language pathologists are able to provide highly personalized care that translates to a quicker recovery.
Building and Restoring Function through Physical Therapy
Building and Restoring Independence through Occupational Therapy
Building and Restoring Communications through Speech Therapy
"Each step of the way, Abernethy Laurels' multi-disciplinary team of therapists provides a customized plan of rehabilitative care to assist patients in reaching their highest potential."
~Amber McIntosh, Executive Director at Abernethy Laurels
For more information about how Abernethy Laurels goes beyond clinical outcomes, call 828-465-8532.
Pre-Registering for Services
Abernethy Laurels makes it simple for anyone to pre-register for short-term rehab or respite services. Simply complete this form and a member of the Transitional Services Team will follow up with the next steps.
Pre-registering for services allows a patient to choose a short-term rehab provider prior to a surgery or in-patient acute admission. Patients are able to focus on recovery, knowing the transition to short-term rehab has already been determined.
Download Our Cost Comparison Tool on The Benefits of Living in a CCRC.
A variety of expenses are included in the entrance and monthly fees for Abernethy Laurels. Our cost comparison tool is available for download as a part of your discovery of the Abernethy Laurels lifestyle. Love the location, live the lifestyle!